Assessing the Impact of Fossil Fuel Subsidy Reforms in Commonwealth Developing Countries
Synopsis
In 2021, the world spent more than US$520 billion to subsidise fossil fuels.1 This could have paid for COVID-19 vaccinations for every person in the world or provided three times the annual amount needed to eradicate poverty (Africa Renewal, 2021). By encouraging demand and excessive consumption of cheaper fossil fuels, these subsidies distort markets, shield people from price signals and contribute to several macroeconomic imbalances, including higher global inflation (Gilmour, 2022).
Successfully reforming fossil fuel subsidies requires wider economic policy reforms alongside systematic changes to climate and energy policies. This issue of Trade Hot Topics assesses the possible economic, social and environmental impacts of such reforms in Commonwealth developing countries, especially small states, least developed countries (LDCs) and countries in sub-Saharan Africa (SSA). Using data on explicit subsidies,2 it highlights the need for Commonwealth developing countries to maximise their renewable energy potential. It also suggests measures that may be adopted to minimise any adverse impacts of the fossil fuel subsidy reforms.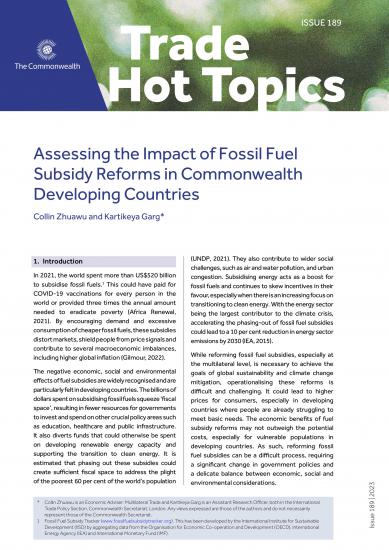 Downloads
Categories
Copyright (c) 2023 Commonwealth Secretariat
License
This work is licensed under a Creative Commons Attribution-NonCommercial-NoDerivatives 4.0 International License.